Coverage Calculator: Square Feet Versus Gallons
Calculate your square footage and get the "correct" thickness to ensure the proper amount of spray in bedliner needed to cover your truck's bed.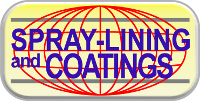 The height (thickness in mils) is the most important dimension for quality of your bed liner. Use this Spray Lining and Coatings truck bed liner calculator to estimate the "actual" amount of spray-able liquid required for "correct" thickness. You can also use some basic math to calculate the proper amount of coating. Read our article on how to use simple math to determine coating requirements.
Simple Calculator When Thickness and Square Footage are Known
Interactive Truck Bed Liner Coverage Calculator for Completely Accurate Detailed Bedliner Requirements
From the dropdown lists and manual entry fields below (indicated by yellow), make your selections and/or enter manual amounts. See the notes that follow for additional tips. NOTE: This online document is delivered from MS Docs, and sometimes takes a minute to load.
Notes to make the best of our convenient bedliner calculator:
Items other than numbers are selected by clicking on the field and then expanding the list with the drop-down arrow to the right.
Fields with number require you to enter a whole number of zero or greater.
Start by selecting the type of protection needed, or leave as "Custom" to manually calculate your bedliner.
When selecting a truck bedliner type other than "Custom", the recommended mil height is automatically entered.
When calculating a custom bedliner, don't forget to enter the manual mil height or the sprayable gallons will remain at zero.
You can take advantage of our surface estimator by simply entering your truck bed measurements.
If you know your total square foot measurement, record the amount in the manual square footage box and skip the truck bed calculation fields.
Don't forget to select "yes" if covering the inside walls and/or rails. By default, these are not selected to allow those just wanting to spray the bottom area.
Remember to add at least 10% for waste when spraying any truck bed liner (simply add 10% to the manual entry field after calculating your truck bed square footage).
From Spray Lining and Coatings:
* Competing DIY brands are silent or inaccurate with mil height. At SLC, we use one physical formula: 1 gallon = 1,604 sq ft @ 1 mil ht. Using less bedliner than actually needed to provide quality protection required, i.e. "1 gallon per bed", is the common misconception. This true height issue with SLC quality plural component, polyurea hybrid formula clarifies why SLC is not only high-grade, we are actually least expensive per spray-able gallon. *
See https://spray-lining.com/polyurea-and-bedliner-facts/sprayable-gallon/ to learn more about what is needed for a sprayable gallon.